ETV Win is a Telugu Over-the-top OTT media service which offers New movies, TV Shows, serials, Web Series, infotainment content, Events (Live & recorded) etc in Telugu language. Check out below for the Upcoming webseries and Movies on ETVWin. The Content is provided both on Mobile Apps and Website. ETV Win is free, However, as a free user you will not have access to all the content offered by the platform.
Upcoming Movies on ETV Win
Upcoming Shows on ETV Win
Below Movies, Web Series, Serials, Shows list are sorted by descending order date. You can see Movies, Shows, Web series name, language, and available date along with link.
ETV Win Upcoming Movies 2023
Movie/Show Name
Available Date
Link on ETV Win
Dil Se – Web Series
16th September 2023


Parthudu – Web Series
25th August 2023


Annapurna Photo Studio
15th August 2023


Kanulu Therichinaa Kanulu
Moosinaa – Telugu
16th June 2023


Match Fixing – Movie
5th May 2023


U & I – Web Series
26th April 2023


Asalu – Movie
13th April 2023


Dear Megha
29th March 2023


Panchatantram
22nd March 2023


Righto Lefto – Web Series
22nd March 2023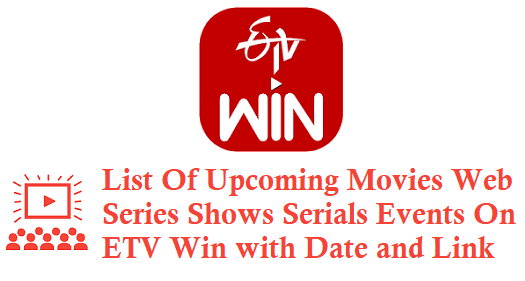 Using ETV Win Membership Plan you can watch original shows and also a few movies.
Currently, ETV Win has 2 Membership Plans the Basic Plan for Rs 365 for 12 months, and for Rs 499 you get 12 months Premium Plan, it is also available for Rs 99 per month.
Note: We will continue to update this post List Of Upcoming Web Series, Movies, Shows, On ETV Win whenver a new webseries or a show is announced on ETV Win OTT Platform.