Arjun Suravaram is an upcoming movie of Nikhil Siddarth, Lavanya Tripati. Directed by T. Santhosh and Produced by Rajkumar akella. Arjun Suravaram released date is 29th November 2019.
Kanne Kanne Song Lyrics
Kanne Kanne Song is a hit song in Arjun Suravaram and singers are Anurag Kulkarni and Chinnmayi, Lyrics by Srimani and Music by Sam C S.
Naa Manasilaa manasilaa
O manase korukundhe
Nee manasuke manasuke
Aa varase cheppamandhe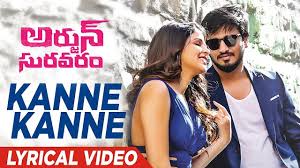 Emo ela cheppeyadam
Aa theepi maate neetho
Emo ela dhateyadam
Ee thaguve thakadhimi thom
Edho theliyanidhe innallu chudanidhe
Nede telisinadhe
Munupennadu lenidhi modalavuthundhe
Edho jariginadhe baruvedho periginadhe
Mounam viriginadhe pedave vippe vela idhe
Arjun Suravaram Kanne Kanne
Kanne kanne reppe vesthe
Nee kalaloke nadichaane
Ninne ninne choosthu choosthu
Nanne nene marichaane
Kanne kanne reppe vesthe
Nee kalaloke nadichaane
Ninne ninne choosthu choosthu
Nanne nene marichaane
Thiyyaga thiyathiyyaga
Nee thalapulu panchavela
Daachuthu yemarchuthu
Ninnu nuvve dhasthavendhukala
O chinuku kiranam
Kalagalipe merupe hariville
Samayam vasthe
Aa rangulu neeke kanapadule
Mellaga melamellaga
Mana dhaarulu kalisenugaa
Haayilo ee haayilo
Akasaanne dhaatesaaga
Innalla na ontari thaname
Cherigenu nee vallene..
Chupulatho kaaka pedavulatho
Cheppeyi ee matalane
Kanne kanne reppe vesthe
Nee kalaloke nadichaane
Ninne ninne choosthu choosthu
Nanne nene marichaane
Kanne kanne reppe vesthe
Nee kalaloke nadichaane
Ninne ninne choosthu choosthu
Nanne nene marichaane
Kadhalika tholi kadhalika
Naa nilakada thalapullo
Sadalika tholi sadalika
Mari chuttu bigisina sankellalo
Ee kalaham viraham
Thiyyani tharahagundadhu vidudhalela
Vinava cheliyaa
Kanipinchani pedhavula palukulilaa
Modhalika tholisaariga
Naa yedhalo alajadule
Nidhurika karuvavvaga
Mari kudhure kudhure chedhirenule
Innella kaalam merisenule
Ninne kalisina vela
Naa oohala vismaya viswamlo
Vennela nee chirunavve
Kanne kanne reppe vesthe
Nee kalaloke nadichaane
Ninne ninne choosthu choosthu
Nanne nene marichaane
Kanne kanne reppe vesthe
Nee kalaloke nadichaane
Ninne ninne choosthu choosthu
Nanne nene marichaane
Kanne Kanne Video Song